Proofex

Torchseal A600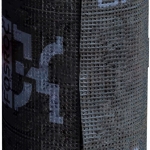 Click thumbnail to enlarge
Torch applied 3mm thick, reinforced polymer, bitumen waterproofing membrane
Replaces Index Fidia
Description
Proofex Torchseal A600 is manufactured by co-extrusion of a polymer - bitumen compound and of a non-woven polyester reinforcement with a continuous filament placed in the thickness of the membrane.
The lower face of the membrane is manufactured with a sacrificial polyethylene film which prevents sticking when the membrane is in storage.
Proofex Torchseal A600 has the top face treated with talc, which also works to make the product easier to unroll and apply.
Uses
Proofex Torchseal A600 is used as a continuous waterproofing membrane for foundations, basements and tunnels, particularly as the base layer of multi-layer systems.
Advantages
APP polymer modified -specifically selected for Australian conditions
Handles ponding and permanently wet conditions
No curing times. Instantly waterproof
Uniform thickness – eliminating likelihood of uneven application possible with liquid applied membranes
Excellent stability at both high and low temperatures
Excellent durability and flexibility
Product Fact Sheet
Technical Data Sheet
Safety Data Sheets
X
Privacy Collection Statement
Parchem Construction Supplies Pty Ltd (ABN 80 069 961 968) ("Parchem") is a wholly owned subsidiary of DuluxGroup Limited. The terms "we", "us", "our" refer to the company and any of our affiliated companies.
Your privacy is important to us: Parchem will use the information you submit and may disclose it to third parties to respond to your enquiry. Parchem (and its marketing and communications agencies on its behalf) may also use your name and contact details to send you information for these purposes. Parchem may disclose the information to contractors, market research organisations, marketing and communications agencies and related bodies corporate for this purpose. If you do not provide the personal information requested, we will not be able to fulfil your request. We may also exchange your personal information with other related companies and our service providers, such as delivery companies and technology providers.
Please refer to our Privacy Policy, available on our website (www.parchem.com.au/privacy-policy/) or on request. It contains further details about: (i) the personal information we collect; (ii) what we do with it; (iii) where we send it; (iv) how you can access and correct it; (v) how you can lodge a privacy complaint regarding the handling of your personal information; (vi) how we handle those complaints; (vii) online privacy; and (viii) the types of service providers we use.
If you have any questions regarding the way Parchem handles your personal information or wish to seek access to, or correct, personal information we hold about you, please contact our Privacy Officer via privacy@duluxgroup.com.au or call +613 9263 5678.