Proofex

Torchseal A400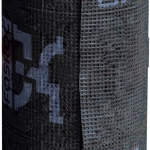 Click thumbnail to enlarge
Perforated reinforced base sheet to relieve water vapour pressure from under multi-layer torch-on membrane systems
Replaces Index Vapour Diffuser
Description
Proofex Torchseal A400 is a perforated membrane for connecting layers for waterproofing semi-adhesive systems, made of polymer-bitumen with reinforced fibreglass reinforcement. The 40mm diameter perforations are distributed evenly over the surface of the membrane providing 14% bonding area.
Uses
Proofex Torchseal A400 is used for spot bonding torch applied bituminous membranes particularly over substrates with relatively high humidity. It should be used as a first connecting layer to avoid the formation of blisters in waterproofing membrane applied on concrete which will remain visible to the eye. 
Proofex Torchseal A400 acts as a vapour diffusion layer if it is used as a connecting layer between a vapour barrier to be applied on a cement substrate of environments with a high level of relative humidity.
For restoration work, it is used to connect a new layer which will remain visible, with an old bituminous surface which has captured humidity.
The choice of using a spot bonded connecting layer should be subject to the careful evaluation by the planner of the roof and of the wind force present where the membranes will be applied.
Advantages
Cost effective
Quick to install
Allows the homogeneous distribution of spot-bonded adhesion zone
The finish layer is more resistant to the wind and is more stable to temperature variations than with other spot bonded methods
Product Fact Sheet
Technical Data Sheet
Safety Data Sheets
X
Privacy Collection Statement
Parchem Construction Supplies Pty Ltd (ABN 80 069 961 968) ("Parchem") is a wholly owned subsidiary of DuluxGroup Limited. The terms "we", "us", "our" refer to the company and any of our affiliated companies.
Your privacy is important to us: Parchem will use the information you submit and may disclose it to third parties to respond to your enquiry. Parchem (and its marketing and communications agencies on its behalf) may also use your name and contact details to send you information for these purposes. Parchem may disclose the information to contractors, market research organisations, marketing and communications agencies and related bodies corporate for this purpose. If you do not provide the personal information requested, we will not be able to fulfil your request. We may also exchange your personal information with other related companies and our service providers, such as delivery companies and technology providers.
Please refer to our Privacy Policy, available on our website (www.parchem.com.au/privacy-policy/) or on request. It contains further details about: (i) the personal information we collect; (ii) what we do with it; (iii) where we send it; (iv) how you can access and correct it; (v) how you can lodge a privacy complaint regarding the handling of your personal information; (vi) how we handle those complaints; (vii) online privacy; and (viii) the types of service providers we use.
If you have any questions regarding the way Parchem handles your personal information or wish to seek access to, or correct, personal information we hold about you, please contact our Privacy Officer via privacy@duluxgroup.com.au or call +613 9263 5678.