Nitocote

SN511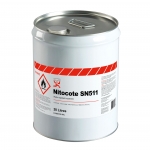 Click thumbnail to enlarge
Low viscosity, isobutyltriethoxy silane, clear liquid, water repellant and chloride ion protective treatment for concrete.
Previously known as Emer-Stop S100N
Nitocote SN511 is a low viscosity colourless neutral liquid. It has a >98% active content of monomeric isobutyltriethoxy silane which, due to it's low rate of hydrolysis, penetrates deeply into porous substrates, reacting to produce a bonded hydrophobic lining to the pores. This treatment markedly reduces absorption of water and water-borne salts, but still permits passage of water vapour gas out of the structure. The treatment is not affected by UV light and does not produce any discolouration of the substrate.
Technical Data Sheet
Safety Data Sheets