Nitoproof

810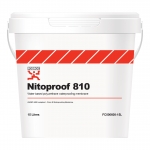 Click thumbnail to enlarge
Highly flexible Class III, water based polyurethane waterproofing membrane.
Nitoproof 810 is a non-flammable polyurethane membrane designed for a wide range of waterproofing applications in the built environment. This single component membrane offers high performance elastomeric and tensile strength properties, along with excellent elastic recovery. Nitoproof 810 is an alternative to solvent based and moisture curing polyurethane membranes for areas exposed to permanently wet conditions and offers outstanding low water vapour transmission properties. Suitable for internal and external wet areas, enabling the direct fix of ceramic tiles, screeds, and renders over the dried membrane without bonding issues that solvent based polyurethane membranes present. Nitoproof 810 offers excellent adhesion properties over most primed building substrates. Nitoproof 810 is fully compatible with Nitotile Flex polymer modified cement based tile adhesive.
Uses
Nitoproof 810 is suitable for a wide range of waterproofing applications such as:
Wet areas and shower alcoves – Class III Membrane System

Podiums, terraces, balconies and deck areas – under toppings, tiles and other finishes

Foot trafficable exposed roof top membrane and balcony decks (when over coated with Nitoproof Top Coat UV)

Sandwich membrane between existing and new substrates e.g. old to new concrete; cement screeds over concrete and CFC surfaces

General areas exposed to moisture and damp conditions
Advantages
Can be flood tested after 48 hours @ 23°C/50% RH

Low VOC

Elastomeric and flexible with excellent elastic recovery

Will not re-emulsify, once cured. Handles permanently wet conditions

Low water absorption

Low water vapour transmission properties

Excellent adhesion to primed surfaces

Compatible bonding properties for tile adhesives (such as Nitotile Flex), screeds and renders

Non-flammable and non-hazardous

Excellent chemical resistance
Technical Data Sheet
Safety Data Sheets
Additional Information
X
Privacy Collection Statement
Parchem Construction Supplies Pty Ltd (ABN 80 069 961 968) ("Parchem") is a wholly owned subsidiary of DuluxGroup Limited. The terms "we", "us", "our" refer to the company and any of our affiliated companies.
Your privacy is important to us: Parchem will use the information you submit and may disclose it to third parties to respond to your enquiry. Parchem (and its marketing and communications agencies on its behalf) may also use your name and contact details to send you information for these purposes. Parchem may disclose the information to contractors, market research organisations, marketing and communications agencies and related bodies corporate for this purpose. If you do not provide the personal information requested, we will not be able to fulfil your request. We may also exchange your personal information with other related companies and our service providers, such as delivery companies and technology providers.
Please refer to our Privacy Policy, available on our website (www.parchem.com.au/privacy-policy/) or on request. It contains further details about: (i) the personal information we collect; (ii) what we do with it; (iii) where we send it; (iv) how you can access and correct it; (v) how you can lodge a privacy complaint regarding the handling of your personal information; (vi) how we handle those complaints; (vii) online privacy; and (viii) the types of service providers we use.
If you have any questions regarding the way Parchem handles your personal information or wish to seek access to, or correct, personal information we hold about you, please contact our Privacy Officer via privacy@duluxgroup.com.au or call +613 9263 5678.