Expoband

F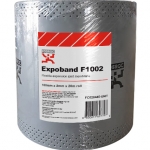 Click thumbnail to enlarge
Highly flexible, chemically resistant, polyolefine (FPO), joint bandage membrane system
Replaces Expoband 110
Description
Expoband F Tape is a Flexible Polyolefine membrane available in 1mm and 2mm thicknesses and widths including 100mm, 150mm, 200mm, 250mm and 300mm. Special widths up to 500mm can be manufactured to order (please contact us for further information if this is of interest). Expoband F Tape is supplied in rolls 20m in length.
Expoband F Tape is bonded to the structure on both sides of the joint using Nitomortar AP, a moisture tolerant, non sag, two part epoxy adhesive specifically formulated to give optimum adhesion to the Expoband F and construction materials.
Uses
Expoband F is designed to be bonded over movement joints or cracks in a structure to prevent the ingress of water and chemicals. It is bonded in position with Nitomortar AP, a two-part epoxy adhesive specifically formulated for the purpose.
Expoband F may be used to seal joints in car park decks, podiums, balconies, walkways and other elevated structures, where the Expoband F can be protected from mechanical damage by a cover plate. It can also be used for overstrapping joints in basements, subways, tunnels, refineries and substructures in general.
Expoband F can also be used on silos, roofs as well as water immersed applications such as tanks, sewers, reservoirs, pipelines and swimming pools where the joint movement may exceed the capability of conventional gun applied elastomeric sealants.
Advantages
Forms a tough, flexible joint flashing
Accommodates continuous, and pronounced cyclic movement
Excellent resistance to UV and weathering
BS 6920: Part 2, 3: 2014 approved for potable water - AS4020 approval pending
Application to dry and damp (SSD) surfaces
Excellent adhesion to most construction materials
Performance not affected by climatic extremes
Rot resistant
Expoband F can be heat welded for the continuity of long joint lengths
Perforations along the edges of the Expoband F provide a mechanical fixing element in addition to the excellent chemical bond offered by the Nitomortar AP
Resistant to a wide range of chemicals
Technical Data Sheet
Safety Data Sheets
X
Privacy Collection Statement
Parchem Construction Supplies Pty Ltd (ABN 80 069 961 968) ("Parchem") is a wholly owned subsidiary of DuluxGroup Limited. The terms "we", "us", "our" refer to the company and any of our affiliated companies.
Your privacy is important to us: Parchem will use the information you submit and may disclose it to third parties to respond to your enquiry. Parchem (and its marketing and communications agencies on its behalf) may also use your name and contact details to send you information for these purposes. Parchem may disclose the information to contractors, market research organisations, marketing and communications agencies and related bodies corporate for this purpose. If you do not provide the personal information requested, we will not be able to fulfil your request. We may also exchange your personal information with other related companies and our service providers, such as delivery companies and technology providers.
Please refer to our Privacy Policy, available on our website (www.parchem.com.au/privacy-policy/) or on request. It contains further details about: (i) the personal information we collect; (ii) what we do with it; (iii) where we send it; (iv) how you can access and correct it; (v) how you can lodge a privacy complaint regarding the handling of your personal information; (vi) how we handle those complaints; (vii) online privacy; and (viii) the types of service providers we use.
If you have any questions regarding the way Parchem handles your personal information or wish to seek access to, or correct, personal information we hold about you, please contact our Privacy Officer via privacy@duluxgroup.com.au or call +613 9263 5678.