Choosing

a Flooring System for Correctional Facilities

25th February 2020

Selecting the right floor coating system for correctional facilities is very challenging due to the harsh nature of the environment and high demand on the coatings.

Flooring must meet a range of performance challenges throughout the facility, while also being economical to install and easy to maintain. 

Depending on the area, the flooring needs to be;
Tough and durable to withstand constant heavy foot traffic
Slip resistant but easy to clean, disinfect and sanitise
Impact resistant
Thermal resistant and anti-microbial for kitchens and food storage areas
Resistant to harsh chemical cleaners and solvents
Inappropriate flooring systems include highly textured finishes, which can result in prisoners accidentally or deliberately harming themselves, and flooring materials that do not bond directly to the concrete slab, which can grow mould between the flooring and the substrate.
To help choose the appropriate flooring system, here is Fosroc's guide to Industrial Floor Coatings for Correctional Facilities, for;
Showers & wet areas
Prison cell floors, corridors and communal cell areas
Kitchen areas
Shower and Wet Areas
Crevices and cracks can be the perfect place for mould and spores to accumulate. The fungus and bacteria can lead to health problems as well as degrade the very material they live in. The result is a damaged shower that may cost thousands of dollars to replace and can be almost impossible to clean. Prison showers are high foot traffic areas, and therefore at even higher risk of severe damage over time.
High performance resinous epoxy floor coatings, such as Nitoflor FC150 HP, once cured, are insoluble and impervious to water ingress, provided the area has acceptable drainage to prevent standing water. They are also easily maintained and long lasting, to help save on cleaning and maintenance costs.
Other advantages include;
Hygienic – they do not support the growth of germs or bacteria
Attractive – available in a range of colours to match the surrounding environment, and 
Safe – slip resistance ratings can be achieved with the addition of slip resistant grit
Fosroc Nitoflor FC 150 HP - system recommendation

Prison Cell Floors, Corridors and Communal Cell Areas
Durability is a major consideration for the prison floor.  The intensive environment in prison puts a lot of stress on flooring materials.  Tiles and sheet-based materials must be stuck to the concrete substrate with glues, which can therefore be "picked at", lifted and potentially shaped into a weapon, posing a serious concern to security. 
Epoxy floor coatings adhere directly to the concrete, offering a non-pick, high impact resistant product, which reduces the risk of vandalism.
Safety and sanitation are other key concerns for prison floor areas. Flooring systems need to withstand daily cleaning with harsh chemicals and solvents, while ensuring a safe environment for staff and inmates by providing a non-slip surface.
Epoxy resin floor toppings, such as Nitoflor SL or Nitoflor SLX, meet this need and when combined with Nitoflor FC150 HP, slip resistant requirements can be met.
 
Fosroc Nitoflor SL – system recommendation

Kitchen Areas
Prison kitchen facilities are one of the harshest flooring environments, being exposed to a range of chemicals, food products, equipment, heavy foot traffic and harsh cleaning regimes. Selection of an appropriate resinous system is necessary for durability and safety.
Polyurethane cementitious systems, such as Nitoflor PU200 and Nitoflor PU600, offer a range of advantages for food preparation areas, such as;
Chemical resistance – to withstand frequent cleaning with harsh chemical
Resistance to thermal shock – suitable for use in cool stores
Resistance to mechanical stress – from equipment use
Low odour and low VOC – non-taint around food during and after applicatio
Added anti-microbial protection – to reduce the chance for microbial growth
Fast application and quick return to service – because kitchens are an integral part of the facility
Fosroc Nitoflor PU200 / Nitoflor PU600 – system recommendation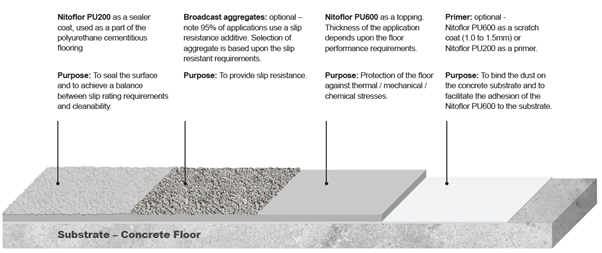 For more information about Fosroc's flooring solutions for correctional facilities or other similar environments, and assistance with determining a solution for your next flooring project, please visit fosroc.com.au, contact us on 1300 737 787 or email enquiries@fosroc.com.au
X
Privacy Collection Statement
Parchem Construction Supplies Pty Ltd (ABN 80 069 961 968) ("Parchem") is a wholly owned subsidiary of DuluxGroup Limited. The terms "we", "us", "our" refer to the company and any of our affiliated companies.
Your privacy is important to us: Parchem will use the information you submit and may disclose it to third parties to respond to your enquiry. Parchem (and its marketing and communications agencies on its behalf) may also use your name and contact details to send you information for these purposes. Parchem may disclose the information to contractors, market research organisations, marketing and communications agencies and related bodies corporate for this purpose. If you do not provide the personal information requested, we will not be able to fulfil your request. We may also exchange your personal information with other related companies and our service providers, such as delivery companies and technology providers.
Please refer to our Privacy Policy, available on our website (www.parchem.com.au/privacy-policy/) or on request. It contains further details about: (i) the personal information we collect; (ii) what we do with it; (iii) where we send it; (iv) how you can access and correct it; (v) how you can lodge a privacy complaint regarding the handling of your personal information; (vi) how we handle those complaints; (vii) online privacy; and (viii) the types of service providers we use.
If you have any questions regarding the way Parchem handles your personal information or wish to seek access to, or correct, personal information we hold about you, please contact our Privacy Officer via privacy@duluxgroup.com.au or call +613 9263 5678.